---
CANADIAN PRIVATE POSTCARDS (chronological order where possible)
---
1232 o/CARD Victorian Valentine Card, wonderful multi-layers, Gold, Green, Red with paste- on's. Dated 1896 on back. A Beauty. VF RARE

SB   200.00
---
1233 o/PC 1896 Standard Oil Co. Winnipeg, used WINNIPEG SQUARE CIR. 6/SP18/96 CANADA.VF

SB   30.00
---
     1234 P o/PC 1901 One Cent QV Leaf card, SHERBROOKE JA14/01 QUE with stunning Wilkes-Westwood advertising in dark blue of Camel and Bird. Very unusual. VF
SB   50.00
---
     1235 P o/PC 1901 THE W.H. STOREY AND SON GLOVE MFG.in red advertising on 1c QV PC. Acton Ont square circle De24/01 Very attractive PC advertisingof Buck Elk, etc. VF
SB   75.00
---
     1236 C */PC 1901 RED STAR LINE NEW YORK ANTWERP S.S. ZEELAND on Scheldt Antwerp PC. VF
SB   50.00
---
     1237 S oPC 89 WHITE HORSE AP 27/03 YUKON + 8 Bar. B/S SEATTLE WASHINGTON to Texas on Eskimo in Kayaks. VF
SB   35.00
---
     1238 S o/PC 1904 THE GURNEY STOVE AND RANGE CO.advert. Winnipeg JA22/04. VF
SB   35.00
---
1239 o/3PC Edward VII CPR scenery PC's (3) all to Belgium with arrival cancs, 1904-5. F

SB   30.00
---
1240 */PC 1905 Grey Nunnery Montreal Embossed in Gold Concordia Salus Patriotic PC. VF

SB   25.00
---
     1241 P oPC 89(2) HAMILTON SP 18/05, Manchester UK arrival on 2 STONEY INDIAN BRAVES card. (some bends) Nice. F
SB   35.00
---
     1242 S oPC 1905 Types of British Columbia Indians, used KETCHIKAN JUL 8/05 ALASKA to San Francisco. F-VF
SB   50.00
---
     1243 P oPC Pau-Puk-Kewis, An Indian of the Great Lakes, Glitter card, used 1905. F-VF
SB   35.00
---
     1244 S o3PC 1st Nations PC's, Stoney Indian Girls, 2 Indian Chiefs, 1905-09. 3 cards. F
SB   35.00
---
     1245 P o/PC 90 WINNIPEG MAY 22/1905 CANADA to UK on Lovely Gold-embossed Patriotic, Assinaboine River Wpg. VF
SB   30.00
---
     1246 C o/PC CARIBOO FREIGHT WAGONS LEAVING ASHCROFT BC patriotic PC, used Ashcroft FE2/05 BC split circle to Kamloops BC. VF
SB   35.00
---
1247 o/PC 89 COLDWATER AU 10/05 ONT,MOON FALLS AU 14/05 ONT Spl cir on MUSKOKA Patriotic P/C. VF

SB   30.00
---
     1248 C o/PC PACIFIC MAIL CO. on board SS Siberia, postcard Sept5/05, used Honolula Hawaii
SB   50.00
---
     1249 S oPC ST.JOHN NB Falls and Bridges. Outstanding embossed gold/blue/red used 1905. F-VF
SB   30.00
---
     1250 S *PC ST.JOHN MARKET SLIP Low Tide, embossed Patriotic Flag Gold, Red, Blue Circa 1905 Beautiful card. F-VF
SB   30.00
---
     1251 S */oPC 89 VICTORIA NO 19/05 BC KAMLOOPS arrival on Ottawa Toboggan Slide card. VF
SB   30.00
---
1252 o/CVR 1906 A.O.U.W Stanley Lodge Advertising PC meeting,used MONTREAL FE 1/1906 drop. VF

SB   25.00
---
     1253 C o/PC 1906 BEAR TOOTH CHIEF-outstanding multi colour Warwick Bros PC, used (missing stamp) Cdn RPO, to UK. Fine
SB   35.00
---
     1254 S o/PC 90 VANCOUVER BC spl.cir on EMPRESS SHIP with notes on the boat to China. VF
SB   25.00
---
     1255 S o/PC FISHING-RESTIGOUCHE SALMON CLUB-birds eye view used 1906 to North Wales. VF-F
SB   30.00
---
     1256 P oPC 89 BANFF AU 29/06 ALTA on lovely Family of Stoney Indians PC. F-VF
SB   45.00
---
1257 */PC Steamer on 1000 Isl.Brockville Ont. Patriotic P/C 1906. VF

SB   15.00
---
     1258 S *10 PC 1907 FIRST NATIONS FT. MACLEOD POW WOW summer of 1907, 10 different B/W PCs as complete set, publ. Ft MacLeod's A.Y.& CO. Scarce
1258 PL2
1258 PL3
SB   175.00
---
1259 o/PC MAPLEHURST HOTEL, Lake Rosseau Muskoka Patriotic (crn crs) used June 27/07. F

SB   20.00
---
     1260 S o/PC 89 + 1 Cent PC GOLDEN AP 6/07 BC duplex. Japanese arrival. Unusual. F
SB   40.00
---
1261 o/3PC 1907 Stanley Bridge to Lot 47, 1908 RPO Charlottetown + Murray Harbour (MA36)on Millview PEI PC, 1909 Lot 56 card to N.S.

SB   60.00
---
     1262 C o/PC 89 machine cancel on BIG TREE/OLD CAR STANLEY PARK VANCOUVER,Patriotic. VF
SB   35.00
---
     1263 C o/PC 89 BROCKVILLE SP22/07 on MAPLE LEAF AND FLAGS ST.PETER'S CHURCH patriotic PC
SB   35.00
---
1264 o/PC VICTORIA POST OFFICE AND CUSTOMS HOUSE, early view used 1907. VF

SB   20.00
---
1265 o/PC 89 VANCOUVER DE17/07 B.C. CDS on THE NEW GENERAL HOSPITAL (unfinished) view

SB   25.00
---
     1266 S o/PC 89 WINDSOR SP20/07 ONT with Elmsvale arrival on Dom Of Canada patriotic PC VF
SB   25.00
---
     1267 S */PC 1907 THE SIOUX DANCE, at Ft.MacLeod Atla, publ.A.Y.&Co. VF
SB   30.00
---
     1268 S */PC 1907 QUEBEC BRIDGE DISASTER, 4 different postcard views, one RPPC. VF-F
1268 PL2
SB   100.00
---
     1269 P */PC 1907 QUEBEC BRIDGE DISASTER AFTERMATH, real photo post card. VF
SB   50.00
---
     1270 S o/PC 1907-8 LEATHER POSTCARDS TO GAINSBORO ASSA/SASK. 6 in total used. VG-F
SB   50.00
---
     1271 S oPC Steamer "Armour" on Lake CeCebe, Midlothian Wharf, used BURKS FALLS NO 23/07 ONT, Enderby B.C.
SB   50.00
---
     1272 S o/PC 1907 QUEBEC CITY BRIDGE DISASTER wreck of the Bridge image used JA2/08 VF .
SB   45.00
---
     1273 P */PC 1907 WRECK OF THE QUEBEC BRIDGE publ.Valiquet's Restaurant opposite City Hall
SB   40.00
---
     1274 S o/PC 89 JAPAN-THE FLAGS OF THE NATIONS series, used Halifax DE15/07 to Lunenburg.F
SB   40.00
---
     1275 S */PC 1907 QUEBEC CITY BRIDGE DISASTER, wreck at shore. Publ. Ill.Pc.Co. Mtl. VF
SB   45.00
---
     1276 C o/PC 89 RENFREW MR19/07 ONT, real photo CPR Head on Collision at Renfrew 1907. VF
SB   60.00
---
     1277 C o/PC 89 PORT COCKBURN JUL28/07 (INVERTED) ONT showing exceptional view of Two Muskoka Steamers and CPR #810 Loco and Train, Toronto Arrival. A gem!! VF
SB   60.00
---
     1278 C oPC FREDERICTON NB Prov. Parliament Bldg on lovely Patriotic PC used 1907 to USA. VF
SB   30.00
---
1279 o/PC 89 BROCK ROAD AU 30/07 ONT on H.M.S.Bulwark(crn wear) F

SB   15.00
---
     1280 P o/PC 89 (nibbed corner, small tear) MONCTON NB-B/W THE GORGE with colour overprint of BRITISH BULL DOG AND FLAG very unusual. Fine
SB   40.00
---
1281 *o/PC 1908 QUEBEC IIIe CENTENAIRE OFFICIAL. GOLD MULTICOLOUR PCs, 6 different F-VF

SB   110.00
---
     1282 S */4PC QUEBEC TERCENTENARY 1608-1908,4 Gold multi colour Valentine&Son Patriotic. VF
SB   60.00
---
1283 *oPC CANADIAN PATRIOTIC POSTCARDS with colour operprinted embossed flags, 9 in total half used Edward VII Period. F-VF

SB   100.00
---
1284 o/PC 89 NANAIMO OC 21/08 BC duplex to Victoria on unusual Blackpool Ferris Wheel & Tower P/C. VF

SB   20.00
---
     1285 C o/PC 97 HASDIS OC16/08 ALTA on scarce SERIES NO.600 UNCLE SAME VIEWING MAP OF CANADA Hard to find series used. F-VF
SB   75.00
---
     1286 C o/PC JACK CANUCK AND SIR WILFRID LAURIER political satire PC, showing Johnnie Canuck and Sir Wilfrid 'I like to walk with a man who can set the pace for me'.Shows in background, Borden and GTP Train. used 1908. Scarce political card. VF
SB   75.00
---
     1287 S o/PC 89 JAIL CARD 'SORRY YOU CAN'T GET OUT TONIGHT' Blenhelm NO 5/08. Odd PC. VF-F
SB   25.00
---
     1288 S */PC Special postcard for DAVID-name card, meaning Well Beloved. Edward VII era.VF
SB   30.00
---
     1289 S o/PC NEW MARKET PATRIOTIC FLAGS pc used Toronto JA20/08.,redirected. some bends. F
SB   30.00
---
     1290 S o/PC 89 Armstrong DE23/08 BC +Springbank arrival on super Santa Claus PC. VF
SB   35.00
---
     1291 C o/PC 89 Toronto machine canc without dater Hub, CHAMPAGNE AND DANCING COUPLES, LOVE REVELS, Tuck PC, unusual Liquor Canadian Card. VF
1291 Backside
SB   45.00
---
     1292 S o/PC 89 BLACK AMERICANA on Cdn PC, Best Wishes for Happy Birthday, light duplex to Langdon Alta. VF-F
SB   35.00
---
     1293 S o/PC SANTA CLAUS and girl at Xmas, ST BONIFACE DE18/08 MAN,Springback arrival to the RIMWOOD RANCHE. VF
SB   30.00
---
     1294 P o/PC A TRUE FISH STORY-CATALINA ISLAND CALIFORNIA used Oakland 1908. VF
SB   35.00
---
     1295 S o/PC City of Toronto Steamer, used 1908. F
SB   30.00
---
     1296 S */PC 1908 DYNAMITING MASSIVE SNOWFALLS Northern Ontario Real Photo PC Unusual. VF
SB   40.00
---
     1297 S o/PC 90 NORTH VANCOUVER DE6 1908 B.C. duplex on real photo PC of Parker Isl. VF
SB   60.00
---
     1298 C o/PC 89 CHIEF POWOSKO colour PC used Winnipeg Fe25/08 to Quebec. VF
SB   40.00
---
     1299 S */PC FIELD B.C TRAIN SNOWPLOW removing massive amount of snow circa 1908 PC
SB   35.00
---
     1300 S o/6PC' 90 (Edward VII cards to foreign distination) includes Italy, Japan, Norway,, Oman(2),Brazil. F-VF
SB   150.00
---
1301 o/PC 1908-13, 3 PCs, Windsor Stn(2), Hotel Vigor, all to Belgium (2 have arrival). F

SB   25.00
---
1302 o/PC 89 large Canadian Exhibition Toronto Ont SP 6/09 to Hamilton, on Allan Gardens Toronto PC. F-VF

SB   20.00
---
     1303 S o/PC 89 ARMSTRONG DE20/09 BC with Springbank Alta arrival on super Santa PC. VF
SB   25.00
---
     1304 C o/PC CHAMPAGNE BOTTLES (TUCKS) 'LOVES GOOD WISHES' with a couple drinking in masks, used in Cdn, TORONTO FE17/09 Drop card. Cdn Liquor-related cards scarce. VF
SB   40.00
---
     1305 C o/PC ALLAN LINE STEAMER AT MONTREAL-rare artist cards with Steamer on The St.Lawrence used French stamp#159 Bordeau 1909.Super card, 1st we've handled. VF A Gem
SB   125.00
---
1306 */PC 1909 Winnipeg Exhibition Midway & Grand Stand Glitter card(crn bend) Notes on back talk of Exhibition. Scarce. F

SB   20.00
---
     1307 S o/PC 1909 BEAUTIFUL WOMEN 'BESIEGED' Merry Xmas, used USA, Dec/09 to Cdn. F-VF
SB   30.00
---
     1308 C o/PC BRITISH COLUMBIA NATIVES IN HOME SETTING, used Latchford Jul27/09 Ont.RPPC.VF
SB   50.00
---
     1309 S o/PC 89 ST.THOMAS MR3/09 ONT. on Michigan Central Bridge at St.Thomas.Nice card.VF
SB   35.00
---
     1310 P o/PC 89 HUNTSVILLE JUL26/09 ONT on PORTAGE RAILWAY AND STATION FLORENCE MAIN HUNTSVILLE MUSKOKA (one of the worlds smallest RR) Rare Edwardian card. VF
SB   75.00
---
     1311 S */PC The 'Sovereign' in Lachine Rapids,Edward VII Era PC. VF
SB   30.00
---
     1312 S oPC Black Americana "Want some?" PC, SMOKY LAKE MY 31/10 ALTA split circle. Super card. VF
SB   50.00
---
     1313 S */o5PC CANADIAN FLAG PC's with Woman & Young Girl and Boy posing. Edward VII era patriotic. Five in total, 3 different. F P align="center">
SB   100.00
---
     1314 C o/PC 1910 BEACON HILL PARK VICTORIA BC patriotic, Greenfield My14/10 NS spl.cir.VF
SB   35.00
---
     1315 S o/PC 89 ARMSTRONG MY16/10 BC with Springback arrival. on OLD FORAL CAR PC. VF
SB   30.00
---
     1316 C o/PC 89 Armstrong De17/10 BC with SPRING-BANK DE21/10 ALTA spl.cir on scare 'HOLD TO THE LIGHT' Xmas scene PC. Super card. VF P align="center">
SB   50.00
---
     1317 S */PC CHIEF SHOOTING HAWK, colour Tuck PC, circa 1910. VF
SB   25.00
---
1318 */PC ARMSTRONG B.C. DAVIES CREEK CANON circa 1910. VF

SB   25.00
---
     1319 S o/PC SANTA CLAUS multicoloured embossed PC ARMSTRONG DE7/10 BC,Spring-Bank arrival
SB   25.00
---
     1320 P */PC A DRINKER, very unusual ALCOHOL related-THE HEAVY DRINKER PC,circa 1910. VF
SB   35.00
---
1321 o/PC 97 dateline Princess Victoria AU 14/08 + grid with Spring-Bank arrvial. F-VF

SB   30.00
---
1322 */PC 1910 The Largest Ear of Corn Grown real photo Exaggeration card, Cdn PC card to Toronto. Sweet. VF

SB   25.00
---
     1323 S */PC IROQUOIS INDIANS CAUGHNAWAGA near Montreal circa 1910. Fine
SB   35.00
---
     1324 S */PC CPR STATION PORT ARTHUR,excellent view circa 1910. F-VF
SB   30.00
---
     1325 S o/PC 89 pair KELOWNA MY19/11 BC duplex on KELOWNA BC Orchard City to UK. VF
SB   35.00
---
     1326 P o/PC 89 WINNIPEG JUN29/11 on FOR SALE-THE BELL REALTY CO WINNIPEG in colour.Bends
SB   45.00
---
     1327 S o/PC 89 ROCKWOOD ONT MAIN STREET VIEW, used Ospring AU31/11 Ont. to Wpg. VF
SB   25.00
---
1328 o/PC 1911 used patriotic DOMINION OF CANADA embossed MAPLE LEAVES, COAT OF ARMS, BEAVER, ETC. VF

SB   30.00
---
1329 o/PC 106(pinkish) NORTH VANCOUVER AU28/12 to London England. Fine

SB   35.00
---
     1330 P o/PC 104b HUNTSVILLE OC20/12 ONT on lovely Main St. Huntsville PC. Crn bend. F-VF
SB   40.00
---
     1331 C o/PC 104 CALGARY AUG2,1913 on super colour PC THE ROCKIES-GLACIER HOUSE AND CHALET LK LOUISE, with very interesting notes about trip and staying in King George hotel in Calgary. Fine.
SB   35.00
---
     1332 S o/PC 104aii Squat Printing booklet single, GLACIER SP18/13 B.C. 2 strikes on early Ilecillewaet Glacier and mountainering party. VF-F
1332 Backside
SB   35.00
---
     1333 S o/PC 104b VANCOUVER SP30/13 B.C. on nice Cone Mt Stikine River PC. VF
SB   25.00
---
     1334 P o/PC 104b GLADSTONE AU9/13 MAN. CDS on super early CAR 'WINNIPEG' PC,B/S Canora SK
SB   40.00
---
     1335 S o/PC 1914 early Mountain Climbing group on Mt. Abbott.Handcoloured, used Vancouver
SB   25.00
---
1336 3*/PC CANADIAN PACIFIC EMPRESS OF FRANCE 1919-34, Real photo PCs (3). VF

SB   35.00
---
     1337 S */PC STEAMER KENO WITH CARGO on real sepia photo PC circa 1920s. VF
SB   50.00
---
     1338 S */PC STEAMER CASCA AT CARCROSS YUKON, real photo PC. Steamer extremely crowded, circa 1920. VF
SB   45.00
---
1339 */PC USA Mining cards from HULL RUStmine in Minnesota. 3 dfferent circa 1920s. VF

SB   35.00
---
     1340 S o/PC LETTER WRITING PC used USA 1920s to Winnipeg Attractive. Fine
SB   25.00
---
1341 o/2PC 106(2 PC's)NORTH HATLEY APR 1920 on 2 "Framed" views of North Hatley

SB   35.00
---
1342 o/PC Winnipeg St Charles Golf Country Club House P/C used 1922, (sml faults) F

SB   20.00
---
1343 o/PC RMS 'Empress of Asia' leaving Vancouver Harbour, sepia photoview, used Vancouver 1923. F-VF

SB   15.00
---
     1344 C o/PC UNDER ONE FLAG-CANADA, AUSTRALIA, INDIA, S.AFRICA,NZ-Britannia Rules the Waves colour patriotic PC. used in 1923 in GB Super card. F-VF
SB   40.00
---
     1345 P *PC 1925 CALGARY STAMPEDE PARADE real photo PC of Bannf - Windermere Hywy Float and Car., publ. McDermid Photo. VF
SB   50.00
---
1346 o/PHOT 1926 FOLDOUT VIEWS OF THE CDN PARLIAMENT BUILDING, shows OLD Parliament Bldgs, inside and out, 16 different views used in Ottawa Nice folder VF

SB   35.00
---
     1347 S o/PC FISHING-CHAR caught in Elk River Fernie BC. Real photo PC by SPALDING, used in Fernie JU26.26 BC to Calgary. VF
SB   35.00
---
     1348 S o/PC PROSPECT POINT @STANLEY PARK, showing ferry in bay. Used Vancouver 1928 RPPC
SB   35.00
---
     1349 S */PC 1930's CLIMBING PARTY ON MT. ROBSON B.C.real photo PC. VF
SB   35.00
---
     1350 S */3PC LAKE BENNETT B.C. 3 real photo PCs circa 1930. VF
SB   50.00
---
     1351 S o/PC 233 SEVERN PARK AU13/38 ONT spl.cir. on super real photo of MASSIVE SNOWFALL AND TRAIN SNOW PLOW. most unusual post card. VF
SB   40.00
---
     1352 S */PC 1939 ROYAL VISIT, real photo PC showing S.S. Prince Robert passing thru ACTIVE PASS BC-31st May ,on return visit from Victoria, with 2 HMC cruisers. VF
1352 PL2
1352 PL3
SB   50.00
---
1353 o/PC BYRON HARMON REAL PHOTO PC folder pack of 20 different real photo pc, USED, NANAIMO MY8/47 B.C. to Alberta. Very difficult to find PC Packs used. VF

SB   65.00
---
     1354 P o/PC KANGAROO HIDE Postcard, 'fur' on 1 side, other side #322 Australian stamp used Clarence Street S.W.Australia 15/DEc/64 to USA. Super unusual Postcard. VF
1354 Backside
SB   95.00
---
1355 */PC Parliament Bldg Ottawa colour Patriotic P/C. F

SB   15.00
---
1356 */PC VANCOUVER BEST WISHES FROM CANADA-Composite of NOTMAN IMAGES early PC. VF

SB   25.00
---
     1357 P */PC Steamer Hannah N.C.Co.Connecting Dawson Y.T with St.Michael. Lovely item(Landahl's Emp.Dawson Publ) F-VF
SB   50.00
---
     1358 P */PC STEAMER CASCA VICTORIA B.C. in dock near Dawson Yukon.Lovely real photo PC.VF
SB   60.00
---
     1359 S */PC OSGOODE HALL TORONTO, gold embossed Patriotic PC. Pretty. VF
SB   30.00
---
     1360 S */PC CDN HUNTING SCENE, lovely gold embossed,inset colour photo of animals shot.VF
SB   30.00
---
     1361 S */PC KINGSTON MACDONALD PARK embossed gold Warwick Bros. PC. VF
SB   25.00
---
1362 o/PC PATRIOTIC PC, all used incl Halifax Legislative Bldg, Greenbank, Victoria Square Queens Pk, Lk Minnewonka F-VF 5 different in total

SB   100.00
---
     1363 S */2PC BEAVER FLAGS, COAT OF ARMS (provincials) Patriotic PCs. Excellent cards. VF
SB   40.00
---
     1364 C */PC S.S. HAMSTEAD, ST. JOHN RIVER NB patriotic PC Warwick Bros. VF
SB   30.00
---
     1365 S */PC S.S.Sovereign Steamer Lachine Rapids B/W Very Attractive. VF
SB   30.00
---
     1366 S */PC ALDERSHOT KENTVILLE NS MILITARY HORSEMEN, with wagons,guns etc outside camp
SB   30.00
---
     1367 S */PC Halifax Railroad Stn,Great Halifax Disaster, 60 people killed, B/W UNDERWOOD. VF
SB   25.00
---
     1368 P */PC "H.M.KING GEORGE V" in Admiral uniform (multi-coloured National Series P/C). F-VF
SB   25.00
---
     1369 S */PC C.P.R SS.Princess Charlotte Pacific Coast Service, Lovely colour PC. VF
SB   25.00
---
     1370 S */PC CPR S.S.Princess Victoria, Victoria Harbour (Notman Photo) VF
SB   25.00
---
1371 */PC Government House Residence of Late Governor of N.S. Full colour. F-VF

SB   15.00
---
     1372 C */PC GOLF LINKS AT THE BOW VALLEY-Banff Alta (Banff Springs Hotel Course) Early.VF
SB   35.00
---
1373 */o4PC St.Stephen NB PC's incl Patriotic. F

SB   30.00
---
1374 */PC STEAMER ALEXANDRIA full colour PC Publ Intl.Stat Picton Ont. F-VF

SB   30.00
---
     1375 S */PC Archbishop of Montreal Mgr.Paul Bruchesi,Real Photo "Framed" PC. Unusual. VF
SB   30.00
---
1376 */PC Montreal & Quebec Handcoloured, 12 diff,a cpl Patriotic,early Montreal Import. Very attractive. F-VF

SB   45.00
---
     1377 C */PC INDIAN TRAVOIS showing horse, native woman and child beside Teepee's real photo #536 by Byron Harmon. Super item. VF
SB   75.00
---
     1378 C */PC STONEY INDIAN CAMP showing various Teepee's, with mostly native women watching a parade? Lovely sepia real photo #529 by Byron Harmon. VF
SB   65.00
---
     1379 C */PC INDIAN CAMP at the foot of Mt.Cascade at Banff, real photo #512 by Byron Harmon Super item probably of the Stoney Indians. VF
SB   65.00
---
     1380 S */o PC DETROIT PUBLISHING CO POSTCARDS OF THE ROCKIES, mountain scenes etc. Detroit Pub.was one of the 1st Postcard Producers in Western Canada. 15 in total.
SB   100.00
---
     1381 S */oPC THOMPSON PHOTO VANCOUVER BC series, black and white, all mountain related scenes 8 different, mint or used. F-VF
SB   50.00
---
     1382 S */oPC EARLY MOUNTAIN/GLACIER CLIMBING IN CDN ROCKIES, includes Swiss guides, Glacier House area, etc. Mint and used, 1910-20 era. 8 in total. F-VF
1382 PL2
SB   75.00
---
     1383 C */PC KAMLOOPS B.C. THE PROVINCIAL HOME, outstanding patriotic colour PC. VF
SB   35.00
---
1384 o/PC Quebec Sweeper #5 Winter Street Sweeper,MTL Import Co.Lovely. VF

SB   25.00
---
     1385 S */oPC ROCKY MOUNTAIN POSTCARDS BY J.HOWARD CHAPMAN COLLECTION of 30 early Rockies PCs 30 in total, 25% used, excellent early Western Cdn PC producer. VF-F
SB   150.00
---
1386 */oPC ROCKY MOUNTAINS PC, all by TRUMAN,9 in total. Pretty group. VF-F

SB   50.00
---
     1387 S */PC SKATING RINK M.A.A.A. rink in Montreal, shows a lot of people skating. VF
SB   35.00
---
     1388 P */PC MONTREAL M.A.A.A. RINK on very attractive CONCORDIA SALUS 'WOOD GRAIN' PC. VF
SB   30.00
---
     1389 C o/card STEVENSON & CO. 'Are you with Us?" special sale of overcoats, suits, caps,gloves Hats, ADVERTISING TRADE CARD. Some bends -FVF Scarce
1389 Backside
SB   50.00
---
     1390 P */PC THE DIONNE QUINTUPLETS with Dr. Dafoe in Callender Ont. VF
SB   30.00
---
     1391 P */PC FISHING METAL PC 'This girl went fishing at Winnipeg'.scarce metal PC. Fine SB
1391 Backside
SB   45.00
---
     1392 P */PC PRINCE RUPERT DRYDOCK excellent real photo PC shows ships, factories etc. VF
SB   45.00
---
1393 */PHOT CANADIAN ROCKIES 20 photographs in folder, ASSOCIATED SCEEN NEWS LTD MTL..VF SB 35.00
     1394 S o/PC SS ARABIC WHITE STAR LINE 'Hands across the Sea' full colour PC Neat card. VF
SB   30.00
---
     1395 S */PC TRAIL B.C.in MOONLIGHT, THE PLANT AT SUNSET, real photo Hughes Bros.circ '20
SB   45.00
---
     1396 C */PC PATRIOTIC RED ENSIGN-THE LOOP showing 4 tracks in Selkirks. F-VF Pretty
SB   35.00
---
     1397 C */PC NEW POST OFFICE AT NELSON B.C. embossed Patriotic Super card. VF
SB   35.00
---
1398 */PC GANANOQUE ONT 'GOLDEN APPLE' outdoor restaurant, real photo pc. VF

SB   20.00
---
     1399 C */PC SWEET GRASS NATIVE INDIAN CHIEF publ.Warwick Bros + Rutter. A beauty. F-VF
SB   40.00
---
     1400 S */2PC WESTERN CDN FIELD/BANFF (2)PCs by scarce Publ.WJ Clubb-Winnipeg.Handcolour.VF
SB   40.00
---
     1401 S */PC FERNIE PC's handcoloured + scarce by N.Suddaby-Fernie (3 diff) lovely PCs.FVF
SB   50.00
---
     1402 C */PC GOLF LINKS, BOW RIVER VALLEY (BANFF SPRINGS HOTEL GOLF COURSE) very early handcolour by S.H.Baker-Glacier. Scarce and pretty. VF
SB   45.00
---
     1403 C */PC GOLF IN WESTERN CANADA-BYRON HARMON real photo PC of Banff Golf Course. VF
SB   40.00
---
     1404 P */PC GOLF IN WESTERN CANADA, Byron Harmon real photo PC of #4 green and fairway at the Banff Springs Golf Course. VF
SB   50.00
---
     1405 C */PC GOLF IN BANFF-Byron Harmon ,RPPC,#898 Banff Springs Golf Course #7 Tee, VF
SB   50.00
---
     1406 P */PC NATIVE INDIAN CHIEFS IN CALGARY STAMPEDE PARADE. real photo PC by Rosettis.VF
SB   50.00
---
     1407 S *o/PC POST OFFICE Bldg EDWARD VII era:Sarnia,Toronto,Brockville,Quebec,Alexandria
SB   40.00
---
     1408 S */PC VANCOUVER B.C. POST OFFICE on lovely Black & White PC. VF
SB   20.00
---
     1409 S */PC VANCOUVER-THE GRANVILLE BRIDGE-early German printed PC. VF
SB   20.00
---
     1410 S */PC TORONTO NORMAL SCHOOL-PATRIOTIC coat of arms and embossed PC. VF
SB   35.00
---
     1411 S */PC 'SOLD THE AUTO-BOUGHT A BABY-CART' very cute embossed King Edward era PC. VF
SB   30.00
---
     1412 S */PC TINY WOMAN on BIG HAND 'Sit Up Kid and Take Notice-Something nice is on Hand Come and Get your Share!' very unusual King Edward VII era card. VF
SB   35.00
---
     1413 S */PC EARLY AUTOMOBILE in the big Cedar at Stanley Park Vancouver, early car. F-VF
SB   25.00
---
1414 */PC VANCOUVER SUGAR REFINERY, real photo PC, ptg in Germany. VF

SB   20.00
---
     1415 P *PC Steamer 'PROSPECTOR' en route to WHITE HORSE, YT, publ. Zaccarelli store. Small faults. F-VF
SB   50.00
---
     1416 P */PC Patriotic BELLEVILLE THE QUINTE, multicoloured Warwick and Rutter. F-VF
SB   30.00
---
     1417 S */3PC PATRIOTIC WOODGRAIN MONTREAL-IN WINTER HUGE SNOWFALLS VIEWS,with red seals.VF
1417 PL2
1417 PL3
SB   90.00
---
     1418 S */PC PATRIOTIC-MONTREAL POST OFFICE, gold embossed, Concordia Salus. VF
SB   30.00
---
1419 o/PC Coll of better PC's incl Patriotic, Lovely MTL Customs, Harbour, Ships, Flags,Maple Leaves,Buffalo,Cowboy. 15 in Total.

SB   100.00
---
     1420 C */PC BC Steamer on Lk Okanagan near Kelowna looking North,Lovely Real Photo PC. VF
SB   50.00
---
1421 */6PC MINAKI Ontario Real Photo PC,Various views of Winnipeg River,Boats,Holst Point VF

SB   60.00
---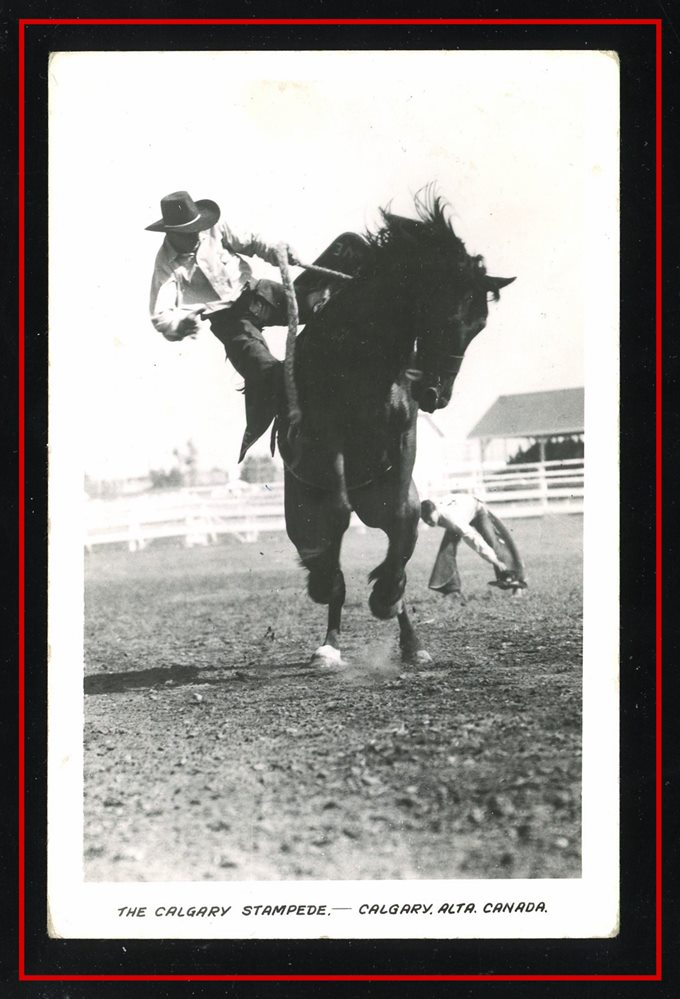 1422 P */PC MUSKOKA WORLD'S SMALLEST TRAIN-PORTAGE RR LK OF THE BAY PC Neat item. VF
SB   35.00
---
     1423 P */PC YUKON STERNWHEELER S.S. CASCA Real Photo PC. VF
SB   60.00
---
     1424 S */PC GRAND FORKS BC SUNSHINE VALLEY-orchards and farms. Real photo PC. VF
SB   45.00
---
     1425 P 8/PC WATERTON GLACIER NATIONAL PARK 'THE INTERNATIONAL STEAMER' between Canada and the USA. 2 flags on the steamer tour boat. Neatly hand coloured. VF
SB   50.00
---
     1426 P o/PC Cdn North West Mounted Police,'single stick bout' used Regina to Grenfell. VF
SB   50.00
---
     1427 P */PC SCOTIA BAY-TAKU CENTRAL (Locomotive and car at dockside) real photo PC. F-VF
SB   50.00
---
     1428 S */2PC MCGILL UNIVERSITY including Main view down the street, 2 sided Advert.card.VF
SB   45.00
---
     1429 S *o/6PC FISHING EXAGGERATION CARDS, showing massive fish from various areas in Ontario incl Bala, Trenton, Kingston, North Bay,etc. Super interesting 'real photos'
1429 PL2
SB   90.00
---
     1430 S */2PC MONTREAL AND QUEBEC CITY STREET CAR SNOW REMOVERS- very unusual PCs. VF
SB   50.00
---
     1431 C */PC PACIFIC MAIL CO. on board SS China, Golden Gate San Frans.full colour. VF
SB   50.00
---
1432 */PC QUEBEC TRI-CENTENNIAL GOLD PATRIOTIC PC's 10 in total Dupl. mixed condition F

SB   75.00
---
     1433 S */3PC Patriotic Embossed Gold,Red & Blue, 3 Diff views,2 Mint,1 used, Publ MacFarlane Toronto. F-VF
SB   45.00
---
1434 o/7PC CANADIAN HOMESTEAD LIFE SERIES-gold patriotic/Maple Leaves Coat of Arms series, 7 all different showing Farming, Big Horses etc. F-VF

SB   75.00
---
1435 */PC HABITANT LIFE CANADIAN HOMESTEAD SERIES,7 different in total.Gold Patriotics.

SB   75.00
---
1436 */PC 'A Toronto Residence in Winter' Patriotic W.G MacFarlane. F-VF

SB   20.00
---
1437 */PC FORT FIELD Prescott Ont. Patriotic (Publ Warwick & Rutter) F-VF

SB   20.00
---
1438 */PC Provincial Parliament Bldg Toronto Maple Leaf Patriotic Warwick & Rutter Co.F

SB   20.00
---
1439 */PC CDN HOMESTEAD LIFE Gold + Multi colour Patriotic "Starting Out to the Day's Toil". F

SB   20.00
---
1440 *PC ST.JOHN MECKLENBURG STREET. Lovely image in B/W. VF

SB   20.00
---
     1441 S *PC ST.JOHN NB ROCKWOOD PARK with stunning gold embossed Coat of Arms. VF
SB   30.00
---
1442 */PC Carrying Grain to the Elevators, Sask (lovely Horse & Wagon) scene. VF

SB   10.00
---
1443 */PC Dominion of Canada stunning embossed solid leaf card (Nerlich & Co Toronto). VF

SB   15.00
---
1444 */PC Soo Pacific Line Steamers, Vancouver BC handcoloured, backside Soo Pacific Service printed. F

SB   25.00
---
---
CANADIAN POSTAL STATIONERY, ENVELOPES AND CARDS
---
1445 o/PS 1890 The Intercolonial Coal Mining Co Ltd Advert text on 3 Cent Q.V. Postal Stat, WESTVILLE SP ?/90 NS. B/S MONTREAL. F

SB   25.00
---
     1446 S o/PC ADVERTISING on the backs of 1c PCs, all in 1890s, incl: Indep.Order of Foresters Fruit Report, Merchant Portrait Suckling + Co., Simmer Seeds, Oxford Stoves, Pure Gold Manufacturing Co. Etc. 12 in total. VF-F
1446 PL2
SB   75.00
---
     1447 S o/PC 1892 Outstanding SANDERSON, PEARCY & CO. Paints, Oils,Varnish, Colours & Glass. Pyramid Display case Advert in blue, used TORONTO SP 23/92. Very scarce & attractive. VF
SB   50.00
---
     1448 S o/PS 1892 MONTREAL 7 AUG 12/PM CANADA duplex on American Forestry Congress,Montreal Meetings(Maple Leaf & Beaver,Ox Collar in Green) LAKE CITY MICHIGAN arrival, Returned. Very Pretty. VF
SB   75.00
---
     1449 S o/2PC 1897 THE LAING PACKING ANCHOR BRAND advert on 1v PC with nice Montreal Flag and missing year in hub variety, 1899 MERIDEN BRITANNIA CO.advert with Rossland BC arrival Pretty adverts. F-VF
SB   65.00
---
     1450 C o/PC 1911 PHOENIX INSURANCE CO HARTFORD CONN.Advertising PC, MONTREAL DE 4/1911 to Winnipeg Man. VF
SB   45.00
---
     1451 S o/CVR 106 THOMAS NELSON AND SONS since 1798 advert.PC in green Victoria FE8.1921.VF
SB   35.00
---
     1452 P o/PC 1936 Advertising BREAD-STARCH FREE LISTERS FLOUR DIABETIC DIETS on P62g card, HUNTINGDON PO NO/36 (dater slightly punches thru card) to Vancouver. Full Colour & Very Scarce. F
SB   65.00
---
     1453 S o/PC CPR CARDS collection of 11 used cards (1 is GTR2D) some duplication. Nice group of crds. F-VF
1453 PL2
SB   250.00
---
     1454 S o/PC CPR cards to foreign destinations includes Ireland, France, Switzerland, India, USA redirected France, UK, Holland, Belgium. 9 in total. F-VF
SB   225.00
---
     1455 S */9PC CPR CARDS,mint, including #3a, 9, 38f, 65d, 80e, 80i, 80g+GTR23 (2shades)F-VF
SB   150.00
---
     1456 S */PC CPR cards includes: #3a, 37b, 43a, 65d, 68g, 69e, 78e,+GTR16k.8 in total F-VF
1456 PL2
SB   225.00
---
     1457 S o/PC CPR graphic card collection of 16 in total, all used including: #5, 35b, 36b, 36f, 38b, 38d, 43a, 43b, 44b, 46e, 65a, 69a, 70a, 80f etc. Nice group VF-F
1457 PL2
1457 PL3
1457 PL4
SB   325.00
---
     1458 S o/PC CPR CARDS COLLECTION of 14 used cards, some duplication, various types, very excellent collection as received, getting harder to find these days. F-VF
1458 PL2
SB   275.00
---
1459 o/PC CPR 42b MOUNT STEPHEN Montreal July2/08 drop customs report card. VF

SB   30.00
---
     1460 P o/PS CPR44L PLACE VIGER (vert crease backside ALB/ADH) MONTREAL MR 7/16 PQ to Hereford England. Rare item in any cond. VG-F
   160.00
---
1461 o/PS EN16 1c Edw VII PS env to Madras India. B/S Madras MY 11/07. F-VF

SB   30.00
---
1462 */PS EN86 Flourescent Ink 6c Centennial. VF

SB   30.00
---
     1463 oPS P3 BELLEVILLE SP 29/77 ONT spl. cir., PAID LIVERPOOL US PACKET 14 OC/77 2B in Red (some aging) to Liverpool. F
SB   35.00
---
1464 o/PC P4 Group of 4 Cards,1893-96,used to London,Surrey, Belgium, London redirected to Austria. Excellent items. VF

SB   85.00
---
1465 o/PS P25 Toronto Au 7/1905 wavy line canc, Zurich BRF. EXP 17 VIII/05 arrival on front. Pretty item. VF

SB   35.00
---
     1466 oPS P25 VF, 2c UPU PC to London, England OCT 16/11 WINNIPEG MAN CDS. Attractive.
SB   35.00
---
1467 o/PS P25 St Thomas Ont Ja 30/1909 to Ottawa. VF

SB   15.00
---
1468 P o/PC P25 TORONTO MY 14/07 with NURNBERG 26 MA 1/10 (Germany) arrival. F

SB   35.00
---
1469 o/PS P33i (Type 8, Die I) used CALGARY FE 4 1916 (3 CANCELS). VF

SB   35.00
---
1470 * U1,2 VF LH cut squares. Nice margins.

SB   20.00
---
     1471 S o/PS U1 TORONTO NOV 12/62. B/S (flap tears & creases) LONDON UC NO 14/62. Scarce. F
   250.00
---
1472 o/PC UX35 2c Admiral UPU P/C,MONTREAL MAY 31/15 CDS Canc to Detroit,Early use, Top edge use slightly cut into. F

   25.00
---
1473 *8/PS Lettercards, UL1,2a,3a,4,6,8,9c,10a. F-VF

   67.00
---
1474 */o/PS CPR/GTR cards incl GTR 3B, 5A, various CPR 9.10(2),38B(2),72E,80F. Mixed cond. (2 are mint). VG-F

E   150.00
---
     1475 S o/PC ADVERTISING CARDS: Barbed Wire Gypsum Lime and Alabastine,Dobbs Caps and Howell Distribution Servce. 4 in total F-VF
SB   35.00
---
     1476 S */PS 'LET REDPATH SWEETEN IT' postal stat.colour backside advert,Admiral period.VF
SB   50.00
---
     1477 S o/PC ADVERTISING PC (BACKSIDES) incl: American Tobacco Co of Cdn, Chateau De Reamezay Anchor Brand Hams, The Supreme Court of Foresters. 1897-8. VF-F
SB   90.00
---
---
WORLDWIDE MILITARY RELATED COVERS, CARDS AND OTHER ITEMS (chronological order)
---
     1478 C o/PC 1901 Military PC showing injury of soldier,Red Cross German Doctor helping + wagon with soldier on strechers used MUENCHEN 10JUN/01 ties 3 Bayern 2Pf. VF
1478 PL2
SB   50.00
---
1479 S o Tibet Field Force Mission canc on India stationery piece July 30/04. F

SB   25.00
---
     1480 C */PC WWII Advance German Party on Motorcycles into Poland. Excellent artist drawn PC in colour with NAZI symbol on back. VF
SB   60.00
---
ALL LOTS MARKED 'P' ARE PHOTOGRAPHED IN THE CATALOGUE. THOSE MARKED 'C' ARE IN COLOUR ON THE COVER PAGES AND THOSE MARKED 'S' ARE SCANNED ON OUR WEBSITE ONLY
---
'SB' IS SUGGESTED BID - 'E' IS AN ESTIMATE OF CATALOGUE VALUE
---
Bids that are less than 50% of Suggested Bid (SB) will not be considered.
---
     1481 P */PC 1912 CAMP KITCHEN OF B.C.H. VERNON B.C. 1912, showing cooks, tents, stoves etc Excellent real photo form Vernon Photo Co. VF
SB   60.00
---
     1482 C */PC Military Personal on duty for looting after the 1912 Regina Cyclone south part of the city.June 30th 1912 Real Photo PC. F-VF
SB   60.00
---
     1483 P */PC WWII PANZER II entering village. Colour German card. VF
SB   40.00
---
     1484 S o/CVR WWI AUSTRIAN material, incl Express cvrs, various Military items, censors, Registered, perfin etc 8 items. Attractive. F-VF
SB   75.00
---
     1485 P o/PC 1915 WWI real photo PC, FELDPOST GELSENKIRCHEN 22/2/15+ other military cancels on Patient+Doctor in the hospital real photo PC Scarce. F-VF
SB   45.00
---
     1486 S */PC BAND OF THE QUEENS OWN RIFLES-TORONTO circa 1915. Interesting PC. F-VF
SB   40.00
---
     1487 S o 1916 MILITARY CAMP NZ 5 MY/1916 8PM TRENTHAM S.O.N. ties 1/2d green pair of Admirals. Very Scarce early military cancel. VF
SB   50.00
---
     1488 S o/BL4 NEW ZEALAND, ADVANCED 21-JA-16 BASE ARMY PO ST. OFFICE (2 strikes on 1/2d Admiral green. Super block of 4. VF
SB   60.00
---
     1489 S */PC WW1 'NO POSSIBLE DOUBT WHATEVER', guards by the famous political WWI artist Bruce Bainesfather. VF
SB   35.00
---
     1490 S */PC WWI The Tactless Teuton GRAVEDIGGER'S Corps.by the famous Bruce Bainesfather
SB   35.00
---
     1491 S */PC WWI 'THE INNOCENT ABROAD' showing trenchs and living conditions out in the field by the famous political satire artist Bruce Bainesfather. VF
SB   35.00
---
     1492 C */PC UNITED FOR HUMANITY AND DEMOCRACY,13 different colour flags from WW1.Super PC
SB   35.00
---
     1493 C */PC WWI GERMAN BOMBERS-Wrecking havoc bombing in the country side, super artist card by the famous R.Schulze, Berlin. VF and very scarce
SB   75.00
---
     1494 C */PC WWI GERMAN BOMBERS-over rivers in the Winter-time, MILITARDOPPELDEDER, stunning Pc by R.Schulze, Berlin. A classic WWI card. VF
SB   75.00
---
     1495 C o/PC WWI GERMAN BI-PLANE BOMBERS+ BATTLESHIP/CRUISERS- stunning WWI card by Rudolf Schulze, used BORNA 15/2/16.very scarce used. Great series by Shulze. VF
1495 Backside
SB   75.00
---
     1496 C */PC WWI GERMAN BOMBERS OVER THE COUNTRY SIDE, outstanding and scarce PC by R.Schutze famous German artist,a series of unusual WWI German Bomber PC's. VF
SB   75.00
---
     1497 S */PC 1916 silk PC 'too my dear wife' and 'happy xmas'. VF
1497 PL2
SB   40.00
---
1498 o/PC WWI Canadian Forces Pay Book, Release Form from Cdn Exped.Forces 1919. VF

SB   40.00
---
1499 o/PS T.S.S. CALIFORNIA letter card with fold out views of the ship and interior, used 1928 on board. The ship was used as a Armed Merchant Cruiser-troop transport. Attacked by German Air Force sunk with 40 dead. VF

SB   50.00
---
     1500 S o/CVR 197 HALIFAX MY25/1935 NS,with oval Commander(D) East HMCS Saquenay Apr29/35, (torpedoed 1940's). VF
SB   40.00
---
     1501 S o/PIN NATIONAL SOCIALIST GERMAN WORKERS' PARTY,metal enamel pin. Fine
SB   45.00
---
     1502 S o/CVR 230 Vancouver Aug31/36 VANCOUVER WELCOMES WARSHIPS OF THE WORLD cachet, HMS APOLLO 31/AUG/36 oval in violet to USA. VF
SB   40.00
---
1503 o/CVR 219 VANCOUVER WELCOMES WARSHIPS OF THE WORLD cachet in blue, HMCS VANCOUVER Au19/36 violet oval to USA. Nice cvr. VF

SB   35.00
---
     1504 P */PC HOPKINS LANDING B.C. SEAFORTH HIGHLANDERS CADET CAMP 1938,real sepia photo PC showing camp, cadets, and inspection line. VF
SB   50.00
---
1505 o/3CVR PRINCESS PATRICIA'S CANADIAN LIGHT INFANTRY NOV-DEC1940 large oval cancellations backstamps in violet FIELDPOST OFFICE #311 to St. Vital Man.

SB   50.00
---
     1506 C o/PC 1940 ZEPPELIN HINDENBURG II (with Nazi tags on tail fins) FELDPOST-FRIEDRICH- SHAFEN 14/10/40-15. Hindenburg at Lindau real photo PC. 1st WWII Zeppelin card we've seen. Super card. F-VF
1506 Backside
SB   100.00
---
     1507 S DECAL 1940 Royal Cdn Corp of Signals window decal in original glassine envelope. VF
SB   35.00
---
     1508 C */PC WWII FELDPOST Xmas Card Zeichnung-Obergefreiter F Brauner artist card in colour. VF
SB   50.00
---
1509 o/CVR 1941 WINNIPEG ST.VITAL AP18/41 MAN. CDS tied 6c Air with boxed 10th Armoured Regt. A.F.(Fort Garry's) Canc. VF

SB   30.00
---
1510 o/CVR 1941 WINNIPEG ST.VIDAL MY20/41 MAN. CDS ties 6c Air with boxed 10th Armoured Regt. A.F.(Fort Garry's), to Camp Borden. F-VF

SB   35.00
---
1511 o/CVR 1941 WINNIPEG NOV6/41 MAN., earliest known Flag Slogan Nov6/41 ties 3c KGVI, boxed 10th Armoured Regt. A.F.(Fort Garry's) Nov.27/41 to 5th Div.Overseas. F

SB   35.00
---
1512 o/CVR Small collection of over 60 military items, from WWII to UN Exp.Forces. FVF

SB   150.00
---
     1513 P o/CVR 1942 EYGPTIAN censored cvr from RCAF M.A.Bentley (singed) 2 censor cancs,lovely Eygptian franking front and back, EGYPT PREPAID 2/10/42 to Calgary via PAN AMAERICAN AIRLINES Clipper. VF
1513 Backside
SB   75.00
---
1514 obooks CANADIAN WORLD WAR II RATION booklets, #1-#6, complete set of 6. F-VF

SB   75.00
---
1515 obooks WWII Canadian Ration Booklets, 9 in total. F-VF

SB   75.00
---
     1516 P o/PC WWII Swiss Army label with Cross/Soldier and horse used ZURICH MR24/1941 to Australia on interesting military PC making TANK GUARDS. VF
1516 Backside
SB   60.00
---
     1517 S o/PC WWII War Saving Stamp Book, neat item. VF
1517 Backside
SB   25.00
---
     1518 S o WWII RCAF Crown and Wings PILOTS WINGS Badge.Very attractive and hard to find
SB   75.00
---
     1519 S o/card ROYAL MILITARY COLLEGE KINGSTON ONT Thermo-engraved Multi-coloured and gold Xmas Card and ribbon, circa WWII. F-VF
SB   50.00
---
     1520 S o/PS 1942 1st. 6d Aerogramme used to Service Men Dec7/42 + 6d KGVI GB stamp added to Montreal with 13th (R) Armed Reg't Pay Office Cdn Force of Connauchts Royal Cdn Hussars H/S. Very Scarce. VF
SB   80.00
---
     1521 S o/CVR CE1 + 252(Bl of 4)+ 259 KENTVILLE JUL 16/43 to 11TH L.A.A.Regiment Cdn Army Overseas
SB   40.00
---
1522 o/7CVR REMEMBER PEARL HARBOR patriotic covers, 1943-45,very graphic 'EAGLE' cvrs. VF

SB   40.00
---
1523 o/PS 1943 AIR LETTER FROM ARMED FORCES (Type 3) +6d GB Stamp, FPO63 RCAF STN SKIPTON ON SWALE JU28/43. B/S Newbrook Alta. (Letter say 'Gerry getting a pounding from the Air'). Written up on album page. F-VF

SB   50.00
---
     1524 S o/PS 1943 1st AIR LETTER with 6d stamp (GB) probably for Civilians and Service Men from Cdn and S.Africa. Used UK Apr9/43 + censor to Canada. VF
SB   50.00
---
1525 o/CVR 1943 FIELD POST OFFICE JY9/43. B/S Saskatoon Light Infantry double oval in blue. Goodridge Alta, Bordenave Alta (RFD), North Edmonton. F-VF

SB   40.00
---
1526 o/PS ARMED FORCES LETTER,(Cdn stamps to 10c rate), RAF PORT ALBERT MPO 106 FEB3/44 to UK. F-VF

SB   30.00
---
     1527 S o/PS 1945 Palestine 25 Mils Airletter,used JERUSALEM JULY1/45 with most part Canadian Missionary letter, talks of Toronto, US Troop ship, blimps, missionaries, Jewish refugees arriving from concentration camps of Europe, moving, prices & rents etc to Canada with violet censor. Scarce. F
SB   80.00
---
1528 o/CVR 1946 OHMS Wartime Price Trade Board reuse envelope and labels. Calgary Jul18/46 to Cranbrook BC. VF

SB   30.00
---
     1529 S o/PC St. John Company'There you are boys-share that between you' Calgary Stampede slogan 1946 B/S Bassano. Alberta VF
SB   35.00
---
1530 o?PS 1952 AUSTRALIAN FORCES IN KOREA, Aust.Base POC No.8 20/VI/52 (Japan) to Aust.

SB   40.00
---
1531 o/PS 1956 KOREAN WAR Aust.Forces P.L.S., AUST.UNIT POSTAL STN 388 24FE/56.to UK

SB   40.00
---
1532 o/PC 1960 United Nations (Canadian Contingent) July 1960 Emergency Force CDS in violet, on Pyramids PC, Clear Water Bay Ont arrival. VF

SB   30.00
---
1533 o/CVR Canadian Forces in Golan Heights, Poland, UN NATO,etc. 80 in total. VF-F

SB   150.00
---
1534 oCVR WWII Correspondence from Field Marshall Frederick Rudolp Lambart (10th Earl of Cavan) plus bio, all to his niece in Canada. 1942-46 (when he died). 13 items in total.

SB   150.00
---
1535 o/CVR CANADIAN FORCES IN BOSNIA, Approx 60 cvrs, all #8's, family correspondence,no enclosures, to Canada. 1998-2001. VF-F

SB   150.00
---
     1536 C */PC UNITED WE STAND-outstanding Flags from GB,Cdn,NZ,Aust.,Str.Settlements, India, Malta, Cape, Tasmania. Very unusual. VF
SB   40.00
---
1537 o Box of WWI and WWII buttons, badges, 1.O.O.C. medals, RC Engineers, Scouts etc 36 items in total. Unchecked for values. VF

SB   100.00
---
     1538 S O CANADIAN MILITARY related button 'British Bull Dog and Regt Hat Feather. VF
SB   30.00
---
1539 o/2PS Cdn Army Units in Congo, CAPO 5046 B/S CAPO 5051 + Belgium Congo B/S CFPO102

SB   35.00
---
     1540 S o/DOC Canadian Red Ensign-'SENT IN ALL SINCERITY WITH THE BEST OF GOOD WISHES' lovely gold embossed,Cdn Expeditionary Force special Xmas Card with ribbon. F-VF
SB   95.00
---
     1541 S o/DOC 'TIS BUT ONE FLAG WHEN THE MOTHERLAND CALLS' wonderful emboased multi-coloured presentation card flags of CANADA,AUST.,INDIAN, NZ & S.AFRICA .VF
SB   65.00
---
     1542 P */PC "H.M.S MARS, Clear Ship for Action" Real Photo PC,unusual. VF
SB   30.00
---
1543 S o/PS HMS Rajaliya (RN Air Stn. Puttalam near Colombo Ceylon) on H.M.Force Air letter red Maritime Mail cancel, long letter dated 29/5/45

SB   35.00
---
1544 * The 48th Cdn Highlanders (Parade) of Toronto, real photo stereoview, sepia Keystone view. VF

SB   25.00
---
End Of Section
---
Last Update: 06/01/19
Name: Travis Haugen
---
TO BID ON LOTS IN THIS SALE, PLEASE E-MAIL US AT:
bowcity@bowcity.net
---
PREVIOUS PAGE		NEXT PAGE